In New Jersey Gastric Sleeve surgery is one of the most popular and commonly performed weight loss surgeries. Also called "Sleeve Gastrectomy," or just "The Sleeve," this procedure is known for being a highly effective, minimally invasive surgical procedure that gets impressive weight loss results.
The Gastric Sleeve is ideal for most weight loss patients. Obesity is a common problem affecting people across the nation. Our New Jersey Bariatric Surgery Patients who have a very high BMI (body mass index) choose this surgical procedure to quickly and effectively lose weight – for the long term.
The procedure reduces the size of the stomach, limiting the amount of food that can be consumed at one time, and does not impact food and nutrient absorption.
Am I a Candidate for Gastric Sleeve Surgery?
Every individual who is considering weight loss surgery – or any surgery – must be medically evaluated. Surgery has inherent risks. Dr. Gritsus has all of his New Jersey Gastric Sleeve patients attend a seminar, either in person or online, so they are fully informed about the procedure, the risks, and what to expect in results. To determine if you are a candidate for surgery, schedule an initial consultation so you can get all of your questions answered, and gain a fuller understanding of what the surgery entails. A full health evaluation will then be scheduled.
Get Started
The following issues will be evaluated to ensure that you are a good candidate for this weight loss surgery:
Your weight loss efforts involving diet and exercise have been unsuccessful.
Your BMI is in the range considered appropriate for the surgery.
Your nutritional habits and weight history.
Your overall medical condition.
Your medical history, and any health concerns (diabetes, etc.)
Your psychological state.
Your personal motivation for weight loss.
Your age.
---
Popular and Effective Weight Loss Surgery: Gastric Sleeve
At one time, Gastric Sleeve surgery was considered investigational. However, according to updated guidelines, the procedure is now considered to be comparable to other bariatric weight loss procedures, such as the Lap Band or Gastric Bypass. Once performed as an alternative to Gastric Bypass surgery for high risk patients, in recent years the surgery has become popular in its own right. It is less invasive than the Gastric Bypass, and can be effective for patients who need to achieve significant weight loss.
Obesity and Your Health
Obesity is an unhealthy condition, and involves many risks and a shortened life span. Although many obese people have concerns about appearance, the problems go far deeper than how you appear. Obesity increases the risk of coronary heart diseases, angina, and heart attack. High blood pressure, stroke, Type 2 diabetes, abnormal levels of blood fats, and a condition called "metabolic syndrome" are all associated with obesity. Obesity also raises the risk of various cancers, osteoarthritis, sleep apnea, reproductive problems, and other health risks. However, our Gastric Sleeve surgery in NJ. can help you regain your health, and live longer.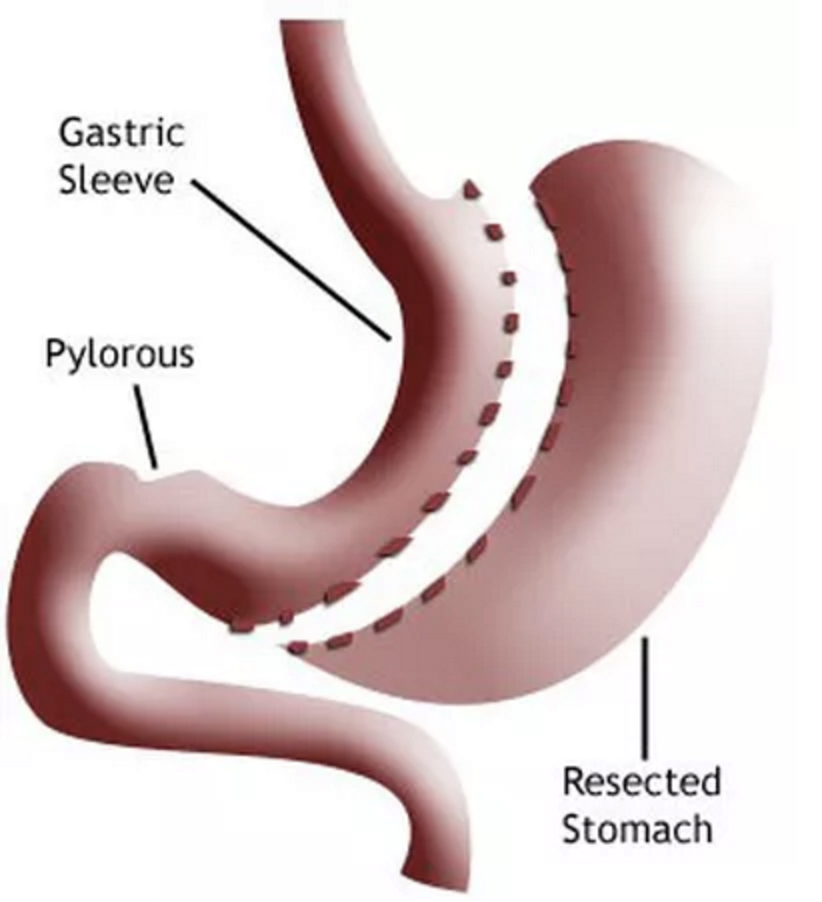 ---
Body Mass Index and Life Expectancy
Your Body Mass Index, or BMI, is an estimate of the quantity of body fat you are carrying. As your BMI decreases, your life expectancy increases. It is important to reach a healthy BMI for a long life and overall health – as well as to regain your self-esteem. If you have a high BMI (over 30), you may be a candidate for this procedure, or another weight loss surgery may better suit your individual condition.
---
The Hunger Hormone
The hunger hormone Ghrelin is released in the stomach, creating feelings of hunger that are difficult to ignore. The feeling of hunger drives us to consume food, whether we need it or not. How the hormone functions will vary from person to person and other factors such as quantity of sleep can impact the release of the hunger hormone and the feeling that you need to eat. During your New Jersey Gastric Sleeve surgery, the area of the stomach that releases the hormone is removed, and patients report that unpleasant feelings of hunger are greatly reduced. Coupled with the smaller size of the stomach, only about 4 – 6 ounces of food give the feeling of fullness, with hunger satisfied.
---
Common Questions: Gastric Sleeve Surgery
How long does Gastric Sleeve surgery take to perform?
The procedure requires, in most cases, between 45 minutes and one hour to perform. It will require 24 hours in the hospital, although some selected patients may be able to have the surgery on an outpatient basis.
Contact us today to find out how bariatric surgery can help you lose excess weight and improve your overall health. In New Jersey Gastric Sleeve is the most commonly performed type of bariatric surgery.
---
How long will it take to recover from Gastric Sleeve Surgery?
To successfully heal in the shortest amount of time, it is imperative that you follow Dr. Gritsus' post-operative directions carefully. Staying hydrated is very important and plenty of healthy liquids should be consumed during your recovery period. About one-half of the liquid consumed should be water, the other half being healthy drinks such as herbal teas – and not sugary drinks. Do not drink any liquids during meals, or for one hour afterwards. It is important that your new stomach has the ability to process the food nutrients, so you don't want to flush food out.
---
Will I be in pain after surgery?
After surgery, you can expect some discomfort, which is managed with pain medication. Tenderness at the surgical sites is normal, and in your stomach as well. Every person heals differently, but typically, it will require several weeks while the body changes and becomes accustomed to the new size of the stomach. Expect to move at a slower pace during recovery, as you may feel tired and sluggish as your body adjusts. Getting the most out of your surgery means carefully following the rules during your recovery period. Your treatment plan and post-operative plan will be developed specifically for you, as you have a unique condition.
---
Is Gastric Sleeve surgery dangerous?
All surgeries carry some level of risk. The advantage of this surgery is that Dr. Gritsus performs it laparoscopically, with four to five small incisions, rather than one large incision that will take longer to heal. We carefully evaluate each patient prior to performing surgery to reduce any risk. Should it appear that this surgical technique would be dangerous for you, it won't be performed. An interesting health fact is that morbidly obese patients are already at high risk for health problems – and six times higher without bariatric surgery.
---
What is the recovery process for Gastric Sleeve surgery?
During the recovery from a Gastric Sleeve New Jersey patients must follow a specific dietary plan, so your stomach can begin to function correctly. The first week involves a liquid-only diet. The stomach has been stapled into the new "sleeve," and they need to heal without pressure from food. Following the liquids-only section of recovery, you will advance to pureed and very soft foods for another week. After this is completed, you can advance to small portions of foods that have been cut into very small pieces. Patients must develop the habit of chewing food very well before swallowing, both during recovery and going forward. You want to be able to allow the body to extract the proper nutrients from the food.
---
Will I be able to eat all kinds of foods after surgery?
After the stomach has healed properly, you will not have dietary restrictions, and can taste and eat a wide range of foods. Spicy foods should be consumed in very small quantities to avoid heartburn. If you had unhealthy eating habits in the past, it is the right time to alter the types of foods you eat, and choose healthy foods that provide real nutrition. You will be given advice and guidance on all of these issues.
---
How much weight will I lose with Gastric Sleeve surgery?
Most patients will lose about 30 to 50 percent of their excess weight within the first year; the second year, many patients will lose between 60 to 70 percent of excess weight. The third year after surgery generally means a leveling out at about 70 percent of excess weight gone. Every patient is different, and will lose at varying rates. After a Gastric Sleeve New Jersey patients need to follow dietary rules and should get involved in healthy exercise regimens which will be helpful in ensuring that you lose all of the excess weight and can have a healthier life going forward.
---
What are the risks associated with Gastric Sleeve surgery?
Many people who are considering surgery have concerns about whether they are putting themselves in danger, and have heard of a complication called "gastric leak." Advanced surgical techniques have greatly reduced and almost eliminated this complication. The more modern surgical technique involves creating a seal, with special surgical staples and clips as part of our procedure. We add six layers of protection to prevent bleeding, and test the stomach with our endoscopic camera before completing the procedure. Dr. Gritsus performs every bariatric surgery with techniques, procedures, and safety protocols geared to protect patient health. His experience and knowledge allows him to guide you to make a decision about what weight loss surgery will be most appropriate for you.
---
Why Choose Dr. Gritsus?
Dr. Gritsus cares deeply about his patients, with his entire staff providing a nurturing, warm environment. We are always prepared to answer any questions or concerns you may have. As a surgeon, Dr. Gritsus has been trained in advanced laparoscopic techniques -- a great benefit for his patients. He has personally performed over 4000 weight loss procedures, and is at the forefront in his field. Weight loss is an important health issue, particularly for those who are obese or morbidly obese. Every detail of your surgery will be managed with the utmost care and attention, including assisting you with qualifying for the procedure under your health insurance.
Call now and schedule a consultation, or join one of our free educational seminars to get the answers you need, and to find out more about Dr. Gritsus and his surgical center. We are here to help achieve a healthier, happier life – call now.
How much does Gastric Sleeve surgery cost?
If you have health insurance, you might be eligible to have your gastric sleeve surgery covered entirely by your health plan, if you qualify. Our office will obtain the necessary authorization from your insurance company. If your insurance agrees to pay for your gastric sleeve surgery, you will be responsible for any deductible or co-insurance, if applicable.
Financing is available through Care Credit.
Schedule a
Consultation Today
Call today to schedule a private consultation in New Jersey